Flooring Services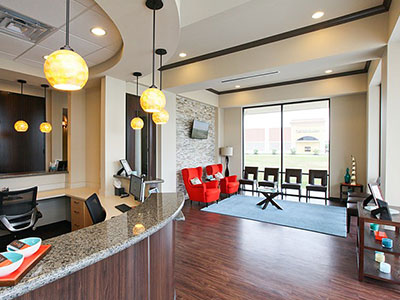 When you want uncompromising quality in your residential and commercial flooring installations, you need the services of experts like us at Westside Surfaces LLC. We are one of the most well-established companies in the field and have over 34 years of experience behind us.

Our company offers an impressive range of flooring and other solutions to clients across Houston, Katy, Sugarland, and the surrounding areas. We are committed to providing tailored solutions, so you can be sure that your floor will be unique in every way. We offer a wide variety of services such as:


Commercial Flooring
The floors on a commercial property tend to see a significant amount of wear and tear every single day. It's why we recommend the use of robust and hardy materials for commercial spaces. We handle these jobs on various premises such as offices, retail stores, supermarkets as well as shopping malls, etc. Our team is here to provide detailed information about different materials that you can use for your floor installation. We make sure that the materials we recommend are best suited for the application and the setting. Our team handles installation efficiently, professionally, and on time. Read More About Commercial Flooring »


Residential Flooring
Residential flooring projects need to be handled very carefully. Every homeowner has a specific idea about how they want their home to look. These ideas extend to the floor materials, styles, and designs that they choose. We make it a point to ensure that the designs and patterns, and materials that we recommend, will enhance the aesthetics, functionality, and safety of the space. Many different types of materials can be used for flooring in residential areas such as tile, carpeting, laminate, hardwood, natural stone, etc. Regardless of the types of floors you want, we can handle the job for you expertly. Read More About Residential Flooring »


Carpeting
Many property owners like the idea of getting carpets for the floors. These features add comfort, warmth, and beauty to a space. There are many different carpet fibers that you can choose from, including wool, nylon, polyester, and more. Each of these types of carpets needs special installation techniques. We have handled a large number of carpet installation projects over the years and have the skill, resources, and experience required to provide our clients with high-quality solutions. We correctly install the carpets so that they do not wrinkle or bunch up in any areas. This attention to detail improves the aesthetic and safety of the installation. Read More About Carpeting »


Tiles Work
Tiles are ideal for commercial and residential settings. These materials are very hardy and long-lasting and are available in a wide variety of materials such as porcelain, ceramic, mosaic, glass, and more. We offer custom wall and floor tiling solutions. Our team can install these products in kitchens, bathrooms, laundry areas, as well as any other area of your home or commercial property. We are here to help you with material selection, and our designers provide their inputs on layout, pattern, and styling. This approach helps to ensure you have stunning tiling installations in your home or office. Read More About Tiles Work »


Hardwood
Hardwood flooring lends a very distinctive look to any space. It can enhance the appeal of traditional or modern-style indoor areas. Since there are many different types of wood species available, it is necessary to choose the right kind of flooring material for your requirements. We are here to help you with material choices. Our team will also provide you all the information you need about the different types of hardwoods and their properties. We handle a wide variety of big and small hardwood installation jobs in commercial establishments as well as residential premises. Read More About Hardwood »


Laminate Floors
Many people like the idea of getting wood flooring installed. However, this flooring option can be a little expensive compared to other materials. The best way to get floors with the wooden finish is to opt for laminate installations. This material is made of high-density board and can have many different textures and finishes. Today, many laminate floor products mimic the look and styling of tiles and other materials. You can choose the one that suits your preferences and fits in perfectly with the styling and decor of your home. Our team is here to guide you in your design choices and will also help you pick the right style for your floor. Read More About Laminate Floors »


Natural Stone
Natural stone floors have a unique appearance. They can create an impact in residential and commercial spaces as there are many different types of stones to choose from. Travertine, granite, marble, slate is some of the common natural stones that people get installed on their floors. Our designers are highly skilled and can recommend which natural stones can be mixed and matched to create different patterns on your floor. We can also install accent stone walls in a living room or bedroom areas. These features create a fantastic impact and can become the focal point of the space. Read More About Natural Stone »


Custom Showers
Getting a customized shower space designed and installed is one of the best ways to improve the appeal, usability, practicality, and beauty of your bathroom. Since there are many different materials that you can opt for, we can create unique patterns and designs in your custom shower space. You can choose from materials such as porcelain tiles, glass tiles, or even ceramic tiles. Some people like the idea of installing mosaic tiles in their shower stalls. We can complete the look by using the same tiles on a sitting bench in the shower space. You have the assurance that your customized shower area will be a real value add to your property. Read More About Custom Showers »


Granite & Quartz Countertops
The countertops in kitchens and bathrooms are some of the most hardworking features in these spaces. They see daily use and have to endure food and liquid spills and stains. The moisture, steam, grease, and other dirt can take their toll on these surfaces, making them look dull and old. If you are considering getting your countertops replaced, quartz or granite are excellent materials to choose from. Both these materials are tough and hardy and built to last. We can provide you with start-to-end, custom granite, and quartz countertop design and installation solutions. Read More About Granite & Quartz Countertops »


Painting Services
We offer the best floor painting and epoxy coating services to residential and commercial clients. Our team is here to provide all the information and details you need about the varieties of products available. These floor coatings are perfect for surfaces that have deteriorated over time but are otherwise in good condition. We use the latest products and floor spray painting equipment in our work. We prepare the floor surfaces well before the paint application, which creates a seamless and finished look on your property. Our floor painting services come at very affordable cost which provides you value for money. Read More About Painting Services »

When you hire us for any commercial or residential flooring job, you know you are opting for the best. For any more information about the different types of floors we can install and the other services we offer, feel free to contact Westside Surfaces LLC at this number - (281) 398 9663. You can also send us your project details through this Contact Us form. One of our experts will call you as soon as possible.
We Provide Services to the Following Cities, Towns and Surrounding Regions of TX: